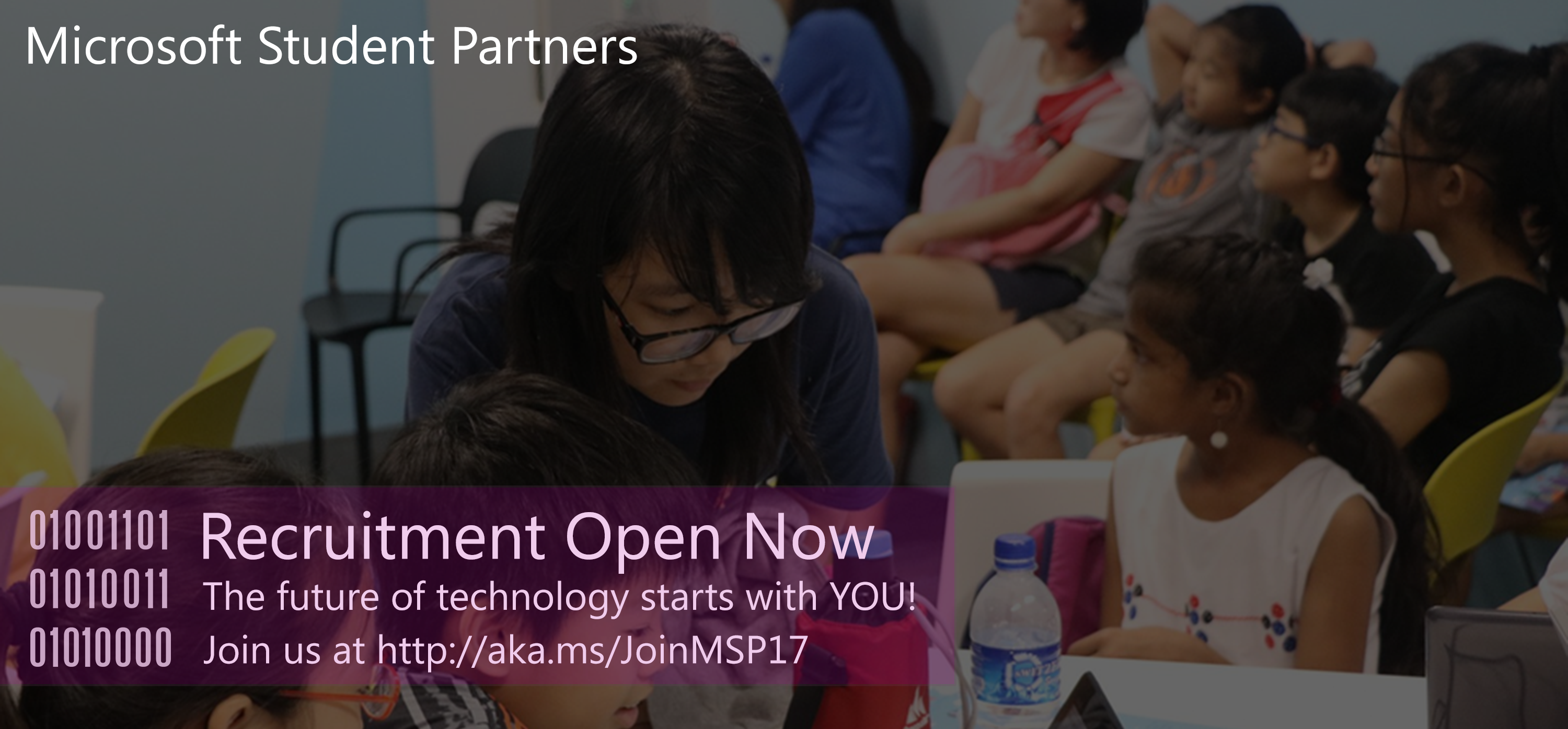 We are proud to announce the recruitment for Microsoft Student Partners (MSPs) Singapore 2017! Join thousands of students all around the world who are passionate for technology and keen to learn new things!
Every day, in more than 100 countries around the world, thousands of MSPs share their deep knowledge and passion for technology with their fellow students. They master the latest technical content provided by Microsoft Imagine and share what they learn, building leadership and communication skills along with technical expertise.
By being a part of the Microsoft Student Partners, you will be the forefront & ambassador of Microsoft technologies in your campus. If you have what it takes and would like to be a part of the Microsoft Student Partners, please remember to submit your application to us before the deadline!
Recruitment for MSP Singapore 2017 opens from 10 12 April 2017, 12:00PM to 30 April 2017, 23:59PM.
Who are the Microsoft Student Partners (MSP)?
The Microsoft Student Partners are a global group of student developers who loves the Microsoft technology stack and love sharing this technology with their student communities around them.
In Singapore, we have over 130 awesome MSPs from polytechnics and universities, from Schools of IT, Engineering, Business and more! These MSPs are passionate about Microsoft technology, keen to learn new skills and organize activities and events in their own campus.
You may view our recruitment slide deck here.
Question and Answers
Why should you join MSP?
As a MSP, you get amazing benefits such as access to our Microsoft Developer Network (Product Keys, Online Training, Azure Cloud Hosting etc.) for free! You also get amazing goodies, swags, access to insider events and many more!
In past years, our MSPs had to chance to network and meet high profile individuals such as Satya Nadella, CEO of Microsoft during his visit during the Microsoft Developer Day in 2016.
I'm interested! Do I qualify to join?
Recruitment is open to all polytechnics and universities in Singapore. As long as you are currently a student studying in Singapore, you qualify to join.
Do I have to be technical to join?
Yes and No. Being technical is a huge plus point as it means that you would be able to teach & mentor other students in your school! Not to worry though, we organize regular technical workshops during our meetups where everybody can learn something new.
What kind of skill sets should a MSP minimally have?
As a MSP, you are at the forefront of your institutions. It will be great if you have prior knowledge of Microsoft products such as Azure, Office365, UWP, Bot Framework and many more. We are looking at candidates who are able to independently learn new languages, frameworks and adapt to the changes in the technological landscape.
It is also a huge plus point if you are able to confidently talk about Microsoft technology and have previously participated in or organized workshops using our technology.
As a MSP, you will also be a Social Influencer and Community Leader in your campus.
How committed do I have to be?
We usually have our meetups once a month (with exception of exam months) on a Saturday morning-lunch. We try to make the content interesting for you by having technical talks, workshops, guest speakers and at times, parties.
As a MSP, you may also be asked to help out with events happening in your campus. These events usually are quite fun as you get to interact with different people and to help build your profile as an MSP on the campus.
How do I apply to become a MSP?
Step 1: Head to htps://aka.ms/JoinMSP17 and complete the form.
Step 2: With the unique code from Step 1 (MSPXXXX-XXX), complete the second form at htps://aka.ms/JoinMSP17Step2
That's it! You're done 🙂
I've just signed up! What do I have do next?
The next step would be to wait for a follow-up email from us. If you have been shortlisted, you will be required to take part in a Skype or face-to-face interview. Do be prepared as we may test you on some technical knowledge!
Related Posts