The Microsoft Student Partners (Singapore) recently collaborated with the National University of Singapore (NUS) in organising the Azurenaut Weekend @ NUS Hackathon, over the weekend of January 13-14, 2017. This hackathon targeted the use of Microsoft Azure as well as to increase awareness about our student initiatives such as the Imagine Cup, Microsoft Imagine as well as the Microsoft Student Partners.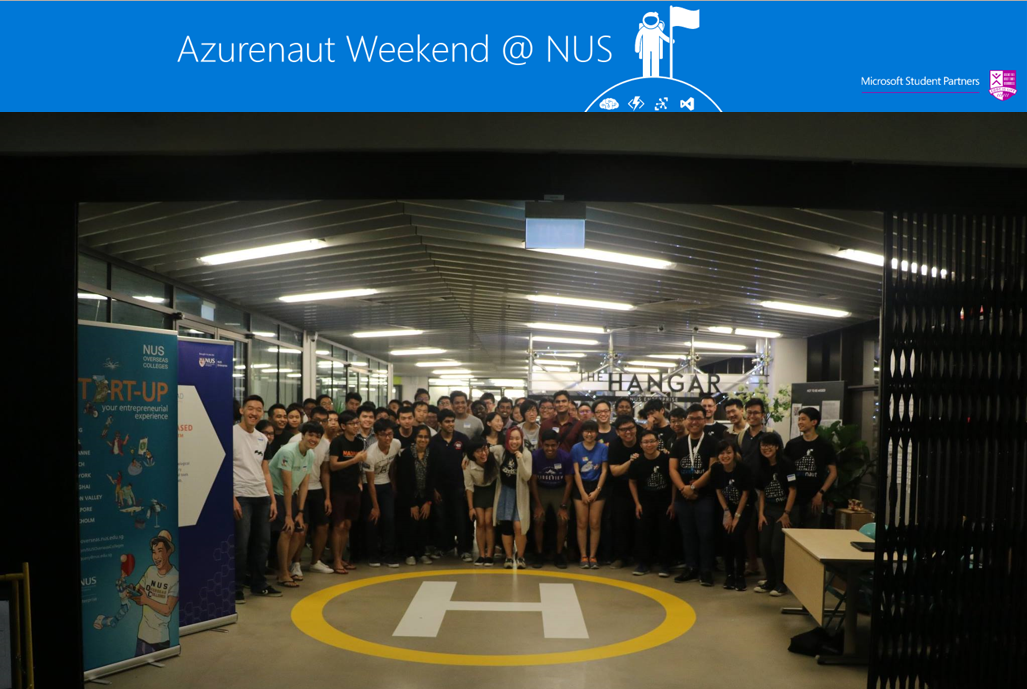 We kicked off the two-day event with an inspirational keynote by our special guest, Mr. Justin Garrett (Group Manager, Student Developer Evangelism, Microsoft), on the possibilities of Machine Learning, Predictive Analytics, Cognitive Services as well as Microsoft Cognitive Toolkit (CNTK).
During Day 1 of the event, we held workshops at The Hangar in NUS Enterprise where Ms. Alyssa Ong (Technical Evangelist, Microsoft APAC), conducted a hands-on session on Microsoft Cognitive Services and Bot Framework. We are proud to be one of the first few countries to demo CNTK on an Azure N-Series virtual machine.
During Day 2 of the event, we began the hackathon at Microsoft Singapore where the theme was: "Using your creativity, passion and knowledge of technology, build a solution that uses Microsoft Azure to shape how we live, work and play". To kick-start the hackathon, Mr. Ujjwal Kumar (Senior Technical Evangelist, Microsoft Singapore), introduced the participants to Microsoft Blockchain-as-a-Service on the Azure Platform.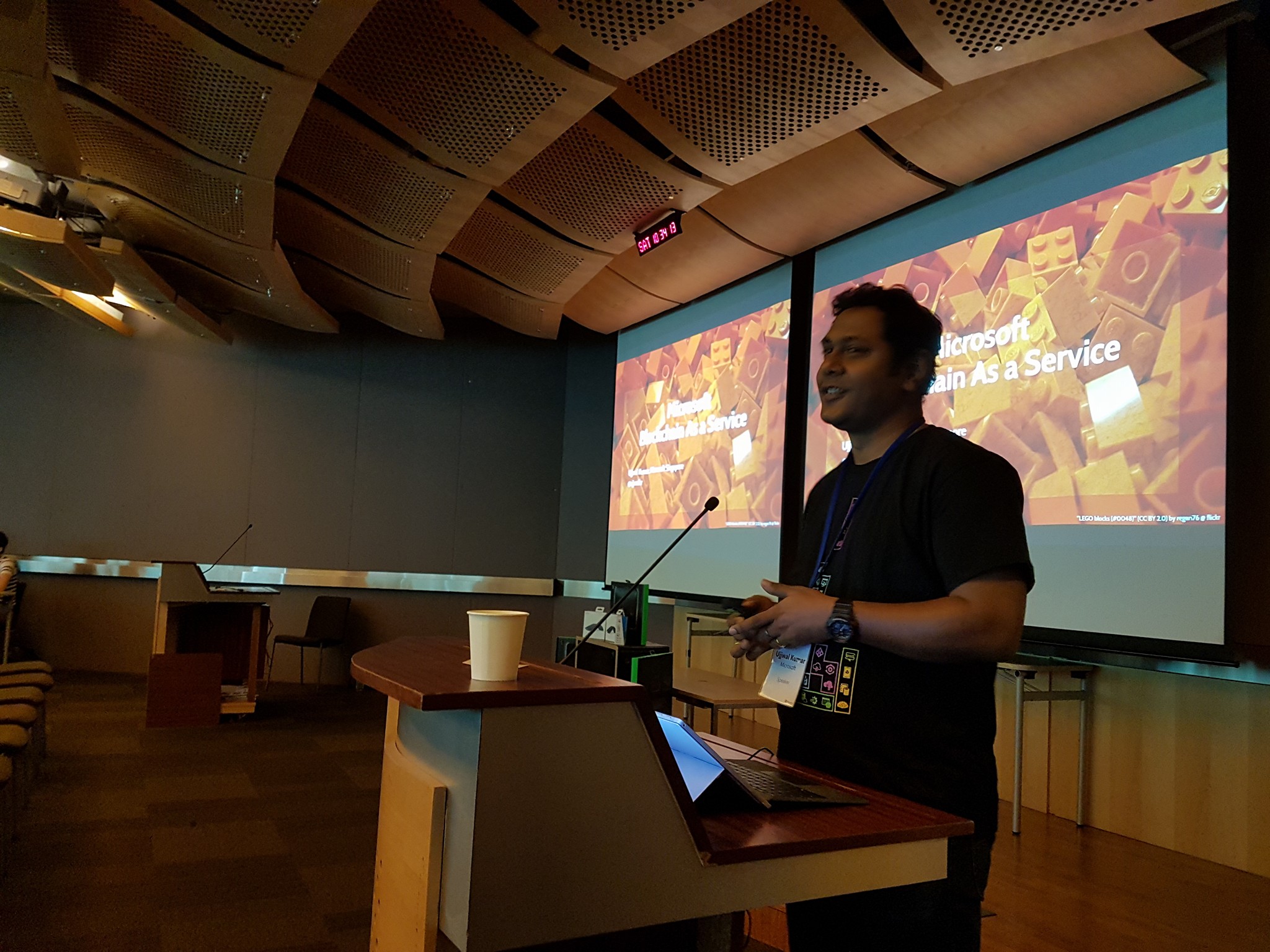 Participants were given the day to utilize Microsoft Azure, and generate fresh and innovative solutions for everyday problems.
After an intense day of hackathon, students created great ideas and innovative solutions with four teams standing out from the competition:
1st Prize: Team ScudTasks with their winning chatbot called "Greenbot" which helps individuals to identify recyclable materials via image recognition, and provide tips for recycling and suggestions for recycling centers.
2nd Prize: Team Fokus with their application that monitors user activities and prompts users to focus on their tasks whenever it detects that the users are idling and using non-work related applications such as social media sites.
3rd Prize: Team Dabaobot with a social chatbot that helps students to organize their lunch orders while generating revenue with their takeout services.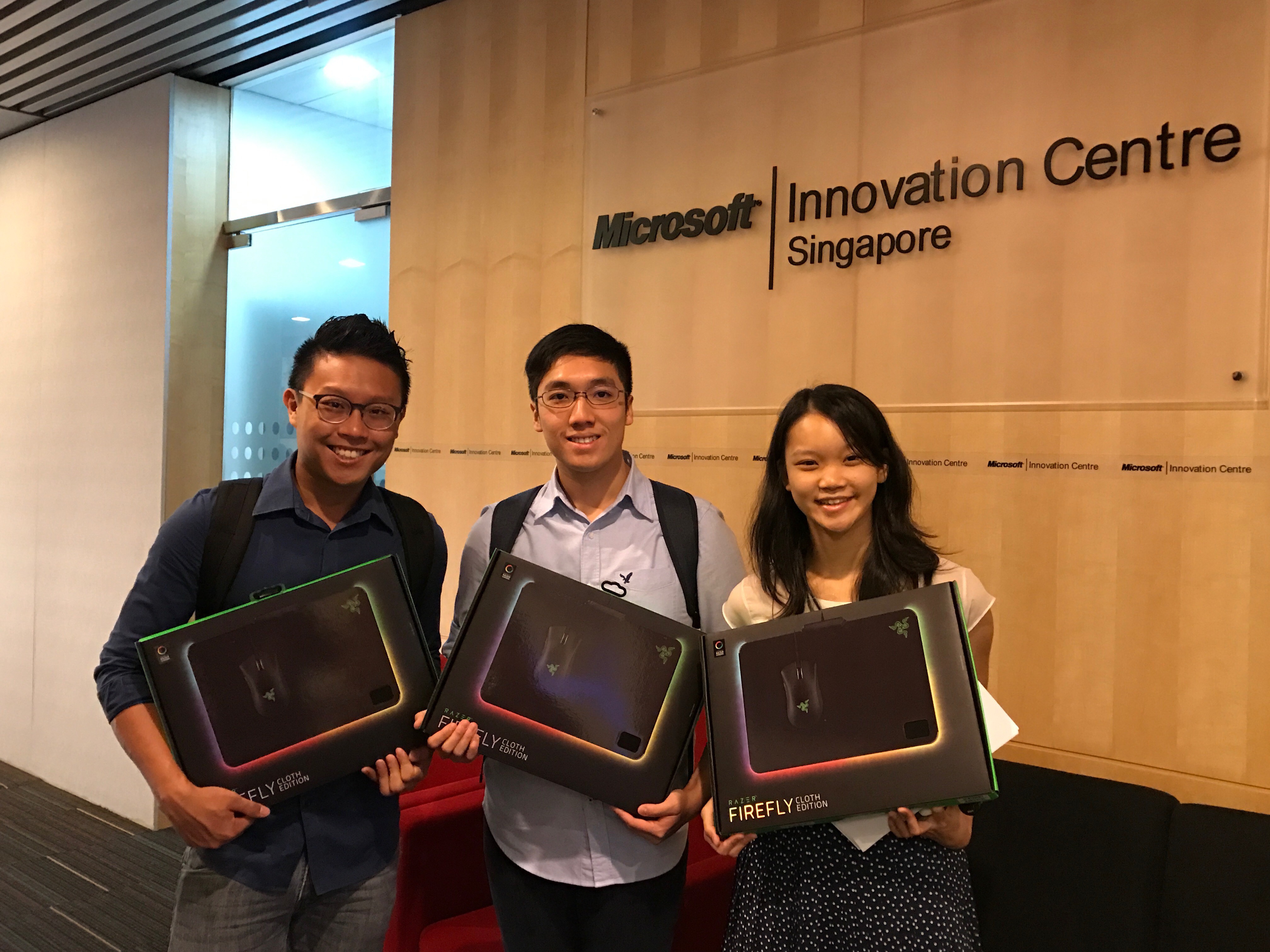 Special Mention: Azure Holographic Team received a special mention due to their technical brilliance and ambitious idea at using Microsoft HoloLens with the Unity framework to visualize Azure resources.
The hackathon and workshops were a huge success with over 88 participants comprising of undergraduates and polytechnic students from a cross section of NUS faculties, other universities as well as polytechnics across Singapore. More importantly, we were able to excite the community about Microsoft Cognitive Services and Bot Framework, with the winning team's solution being a chat bot built using the Bot Framework.
Special thanks to NUS Enterprise and Microsoft Student Partners Singapore for their great support in making this event a huge success!
Related Posts