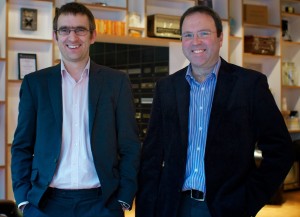 Peter McBride (L) and Jim Adams(R), Scintilla.
In Edinburgh, Scotland, Huifen met Jim Adams, a patent attorney with a passion for helping startup companies in Scotland and beyond. Jim and his colleague Peter McBride (both attorneys) recently launched their own IP firm, Scintilla, specialising in patent and design filing. They support the startup community in Scotland by providing mentoring and cost-conscious, value-added IP services.
Huifen was naturally intrigued, being a lawyer herself and a regular mentor to Singapore startups. She speaks to Jim to find out more.
1. How long have you been a patent attorney for? Which are your technical areas of specialty?
We have nearly a quarter of a century of experience between us! Pete has worked in the patent profession since 2000, and I started in 2001. We specialise in electronics and software, covering a wide range of technologies such as microelectronics, telecoms, information technology, software, optoelectronics, nanotechnology and the physical sciences.
2. Is it correct to say that your firm can file applications for patents and registered designs in the UK as well as for the EU?
Yes, we can secure patents and registered designs by representing our clients in the UK and in Europe, acting for clients from around the world. Clients come to us due to the specialist nature of the procedures involved in obtaining UK or European rights. Sometimes they need to appoint a local representative.
We also have expertise in managing global patent portfolios, including securing US patents, which is especially useful for business method or less technical software inventions that may not be patentable in Europe.
Once filed, a patent application undergoes a rigorous examination procedure and we are involved in arguing our clients' case to get the patent granted.
We also file registered designs for our clients. The Community Registered Design is a cost effective way to obtain EU protection for the appearance of a product.
Other IP services we provide include patent renewals, due diligence, freedom to operate assessments, patent infringement and validity opinions.
3. When did you start giving special support to the startup community? What motivated this?
Any startup is motivated by passion and enthusiasm. In our case, we are excited about innovation and we naturally want to engage with and be part of the local startup community. There is a natural affinity because we are a startup ourselves, launching in January 2013. Our firm was founded on belief that working with startups is some of the most fun and rewarding work that we do.
We love to help startups get established and to be a part of their growth so we can have long term relationships. We have to support startups because they find themselves in a "Catch 22" situation with patents, where they have to protect their inventions before they make or raise money. But quality patent protection costs money!
4. How do you provide this support?
We provide mentoring support, and also do our best to bill for work in a way to ensure value for startup clients. The key aspect for us is making sure that our actions match our words, and through spending time in the startup community, and through the work we have done for our early stage clients we are showing that our support is genuine.
We recently had the privilege of being a mentor for budding entrepreneurs at a "3 Day Startup" event in Edinburgh organised by Launch.ED and supported by the Scottish Institute for Enterprise and the Open Innovation Project. Startups inevitably need more guidance than established clients, because they are busy learning about many new aspects of their business, and they may be unfamiliar with intellectual property.
When it comes to chargeable work, we operate where possible on a fixed price basis. We have set fees for repetitive, smaller tasks. For larger tasks, such as patent drafting, we agree on a fee with the client after scoping out the job.
We are committed to getting to know our startup clients and fostering a supportive relationship. So, outside of agreed jobs, we do not charge for phone-calls or meetings to just "catch up", or for minor administrative tasks, such as providing quick updates to help startups keep track of their portfolio.
The end result is a process that matches the billing to the value that has been added, and is predictable. Predictability of costs is crucial for startups.
Initial consultations for prospective new clients are also free of charge with no obligation.
5. How do you balance between the usual corporate clients and the start-up cases which you take?
Corporate client work represents a reliable source of income. But in our view for proper job satisfaction, this needs to be balanced with the privilege of making a real difference to a fundamental aspect of the business of a startup or a SME (small or medium business). So we do need to make sure we have the right balance of work. Key to our own success is to recruit more patent attorneys who share our enthusiasm.
Of course, when startups grow and succeed that helps us, but we are lucky to be in Scotland where there are so many dynamic young companies, an active angel investment network and a thriving academic network, so we are confident that simply being part of the startup community will reap its rewards.
6. Is there anything else of interest, which you'd like to mention?
We are developing some product offerings that will provide innovative services for startups but (in true IP professional style) cannot reveal these yet, so watch this space to see what comes next!
Additionally, there will be interesting changes for intellectual property in Europe and in Scotland.
There are moves toward a unitary European patent. Currently, a European patent provides a single procedure for examination and grant for up to 38 European Patent Convention states. However, after grant a European patent is validated in selected states for enforcement through the different national courts. The proposed unitary patent with a Unified Patent Court will allow decisions on patent infringement and validity to apply with equal effect across all EU Member States.
There is a referendum on Scottish independence in 2014. Whatever the outcome, the indicators are that there will be continuity in the legal framework for protecting intellectual property rights. We are confident that Scotland will continue to be a safe and cost-effective entry point for European intellectual property protection.
Related Posts