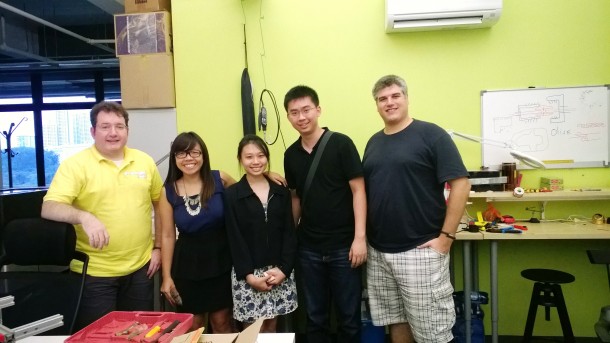 We have recently visited Prototype Asia Pte Ltd on Tuesday morning, to kick start our visitation to different start-up companies under our program, Microsoft BizSpark.
Prototype Asia Pte Ltd, a company on the forefront of 4D printing, started out as a firm providing software prototypes and solutions in 2010. With turnover estimated to hit $1.24 million inoperations, Prototype Asia's business model is one of the first few to have succeeded in 3D printing industry. The company transform ideas in products through the latest prototyping technologies. As a newly start-up, Prototype Asia Pte Ltd's success story did not come easy, they had financial difficulties in getting bank loans and funds to purchase their 3D printing machines which each cost more than hundreds of thousand dollars. Thankfully, Singapore Economic Development Board has announced this morning to set aside $500 million over the next five years to develop the three-dimensional (3D) printing sector which will definitely aid their start-up funding here in Singapore. (Refer to link)
So you might be wondering how they managed to print their 3D models out of printers for their clients? They have a printer that reminiscent of Star trek Replicator, creating something magical out of thin air. It can "print" in plastic, nylon and other materials for manufacture prototypes, injection moulds and figurines.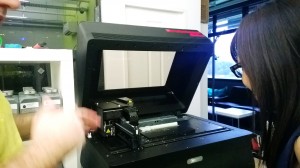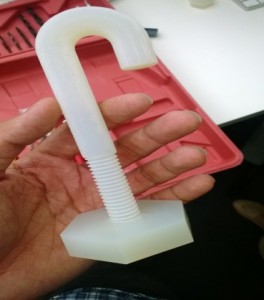 We had the opportunity to get first-hand experience to view the 3D printer, that creates a three dimensional object by building its layer by successive layer, until object is complete. Just imagine a multi-layer cake, with baker laying down each layer one at a time until the entire cake is formed. Each layer is thinly sliced, horizontal cross section of eventual object. A sample prototype of an engine part is shown in picture above.
Prototype Asia Pte Ltd is currently working with local enterprises that deal with consumer electronics, advertising and marketing in effort to improve their Research & Development processes. Models of complex architectural drawing can now be created quickly instead of handcrafting model out of cardboard and customers are able to create new products, redesign and refine existing ones into functional prototype.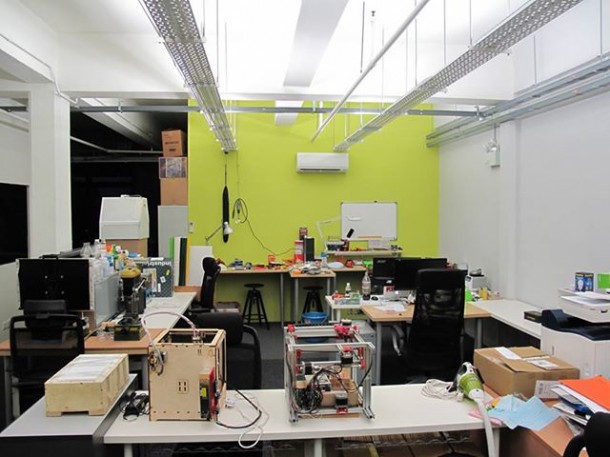 We were given the opportunity to tour around their office workspaces. Prototype Asia Pte Ltd have a conducive office environment to work in which they create 3D prototypes and transform design and ideas into products from there.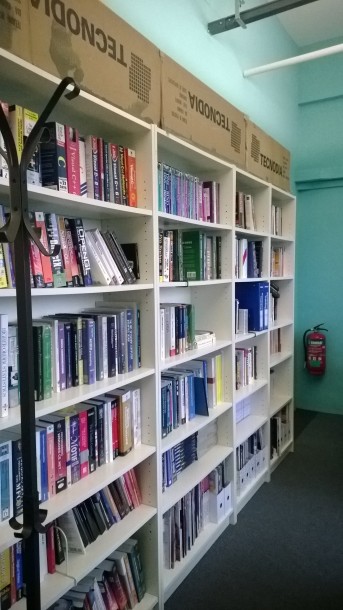 They also have a vast range of C#/Java/Engineering-related library books that is available for the staff to loan for research and development purposes. Books are classified according to subjects and expertises.
We would like to extend our heartiest thanks to Prototype Asia Pte Ltd for hosting the visit and wished them all the best in their business.  If you are looking for a career in mechanical and software engineering, contact them at http://prototype.asia/careers/
Read more at http://prototype.asia/
Related Posts