Imagine Cup is a global competition that empowers the next generation of computer science students to team up and use their creativity, passion and knowledge of technology to create applications that shape how we live, work and play. Every year tens of thousands of students from across the globe compete for cash, travel and prizes and for the honor of taking home the Imagine Cup!
This year, we are bringing the best of the South-East Asia next generation together to showcase innovation that's made possible through Cloud.
Singapore Finals: The qualifying teams will compete at the Singapore Finals in Microsoft Singapore. More information will be updated in the near future.
Regional Finals (SEA Imagine Cup 2017): Imagine Cup Singapore 2017 Finalist will represent Singapore at the regional finals and compete with 11 South East Asia Countries.
Worldwide Finals: July 2017 Regional finalist will represent your country in the world finals in a location to be announced soon.
Student Requirements: You are at least 16 years of age as of July 31, 2016 and are actively enrolled as a student at an accredited educational institution that grants high-school or college/university (or equivalent) degrees (including home schools) at any time between 1 January 2016 and 31 May 2017.
2017 Imagine Cup competitors will be required to use one or more Microsoft Azure services within their technology solutions. Please find more information in 2017 Imagine Cup Official Rules & Regulations
Join us for the 2017 Imagine Cup Pre-brief workshop and Start your Journey NOW!
Submit your proposals no later than 8th January 2017 @ 6pm to Lilian Quek. Submit EARLY!
For more information, visit 2017 Imagine Cup.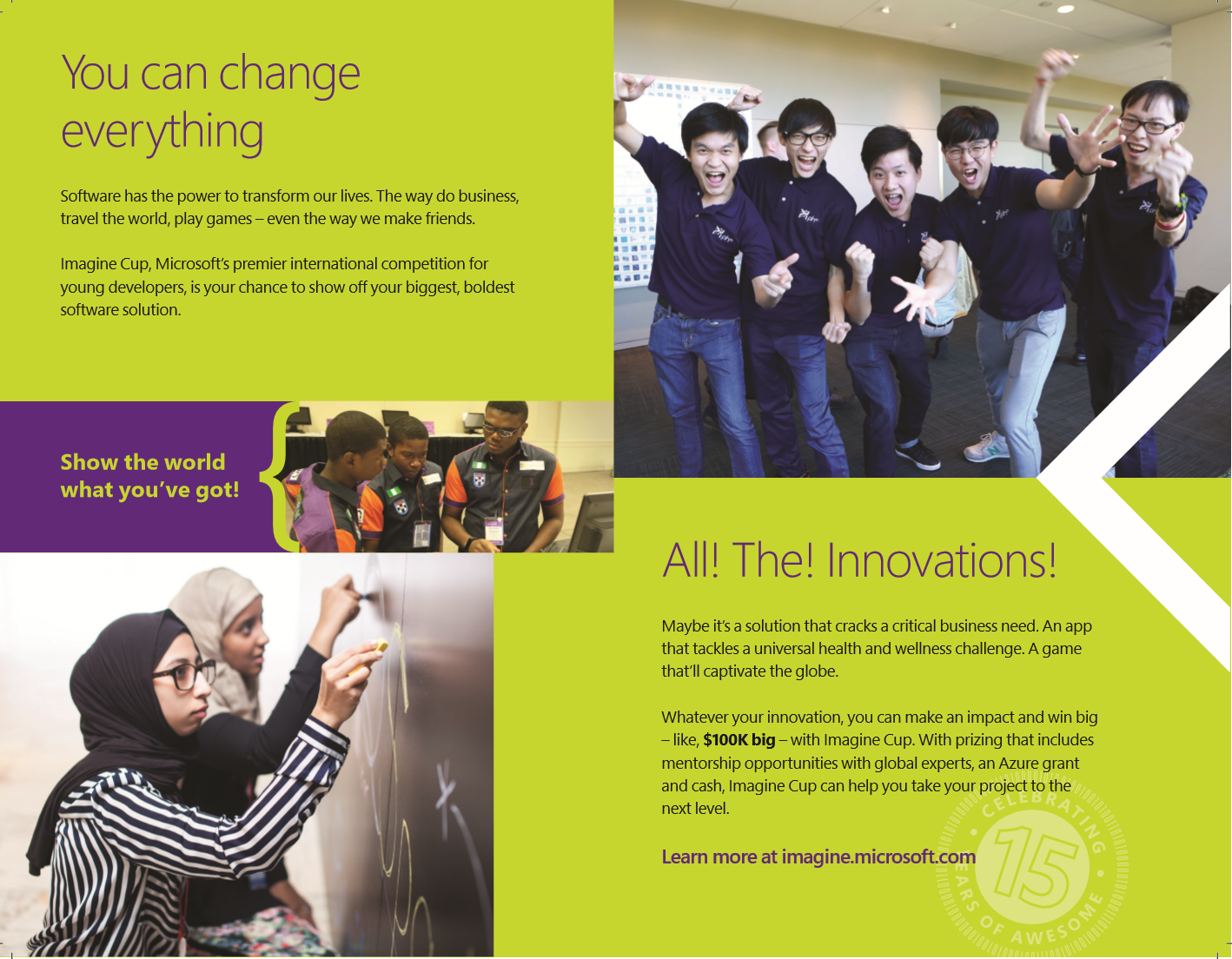 Related Posts